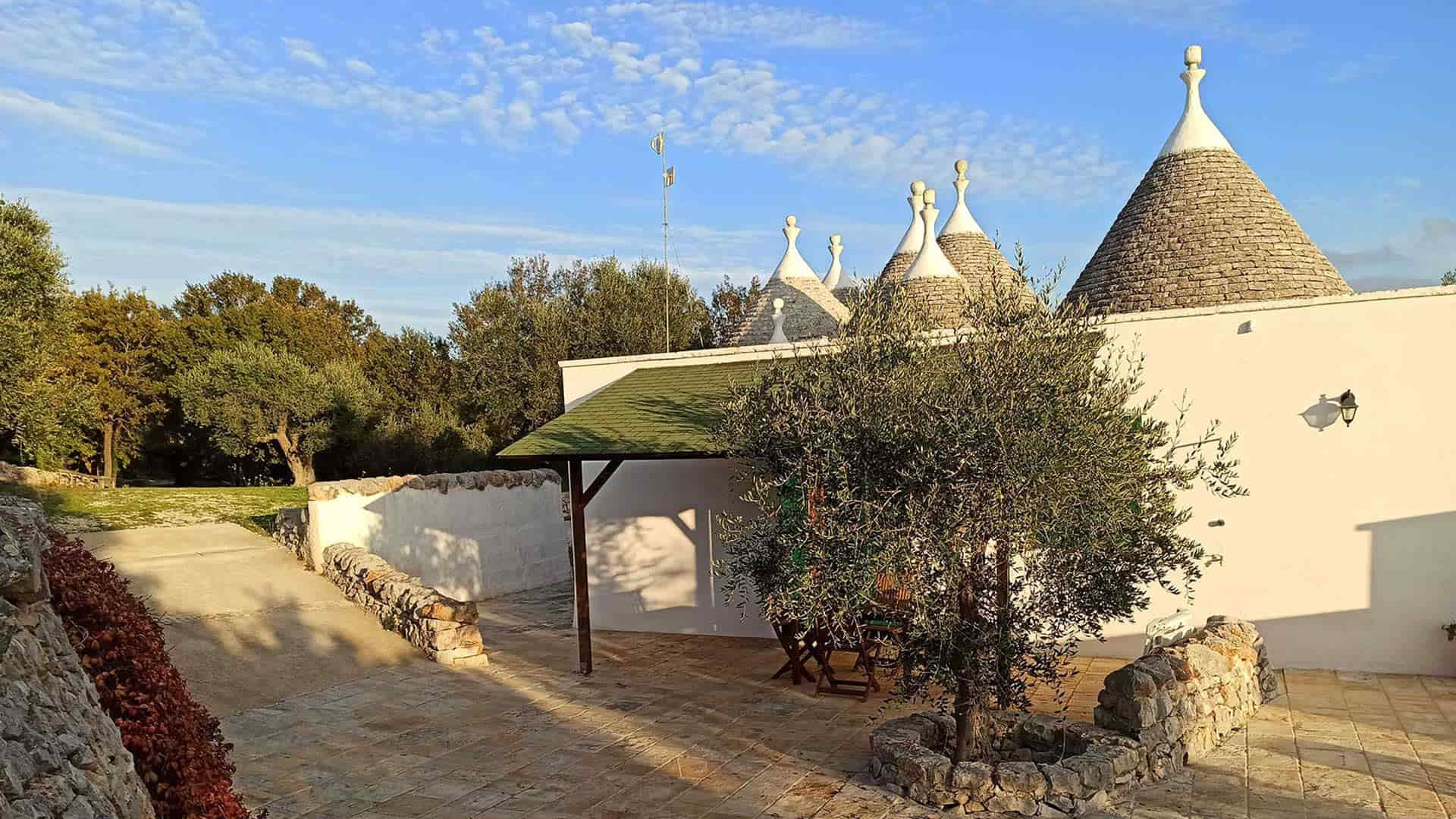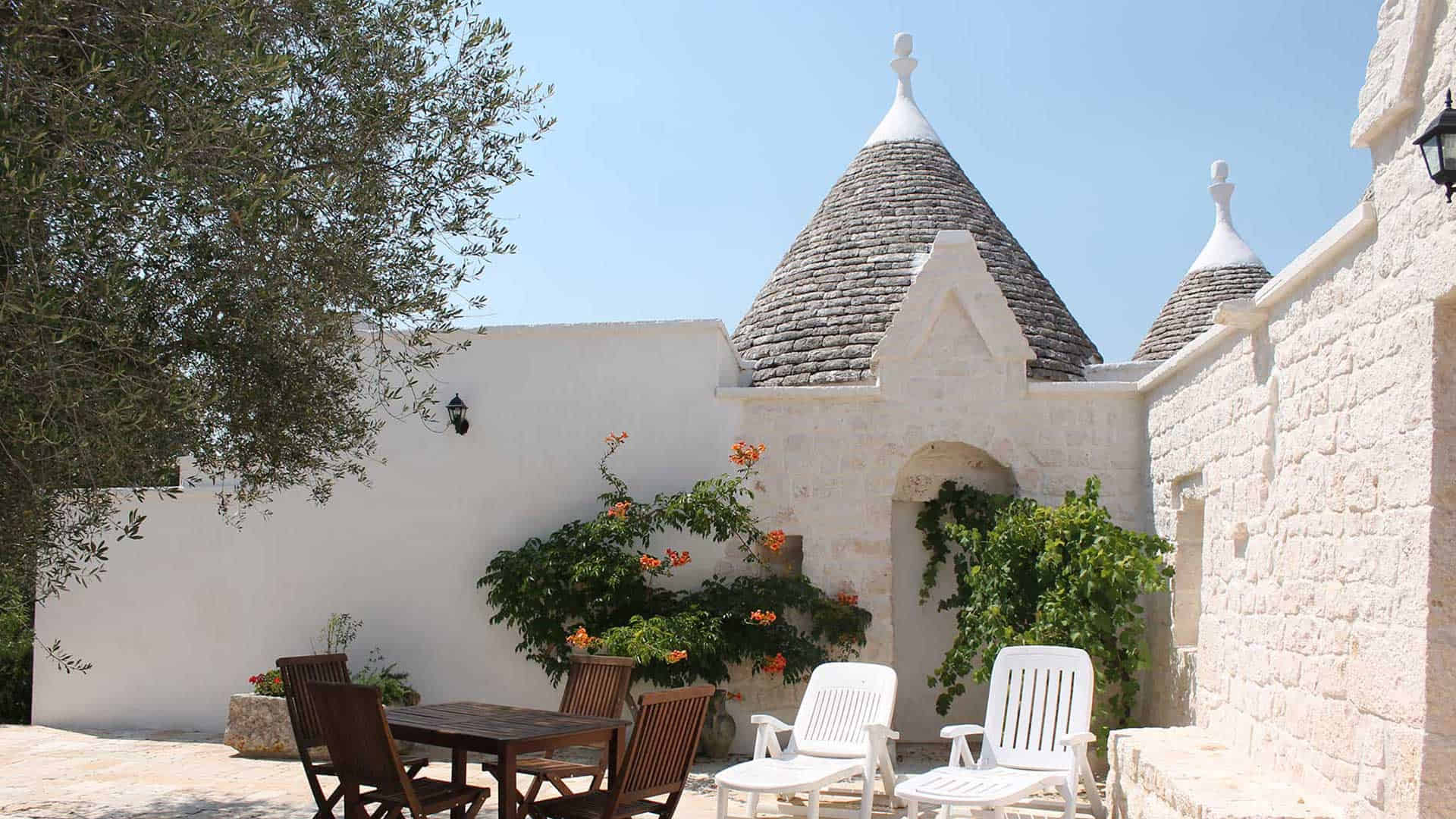 Slide 1
" La Fortunata Terra
Di Puglia"

Slide 1
"In one of the trulli the owner invited me in to drink a glass of wine with him. He raised a stone slab in the floor and, to my surprise, I saw there his wine cellar, which was a concrete tank full of wine."

A Traveller in Southern Italy by H.V. Morton
Slide 1
"The tendency of the entire conical trullo construction to collapse inward was resisted by the horizontal arch effect of each ring and by the horizontal friction forces between the rings."

Stone Shelters by Edward Allen

Give yourselves a complete break with a relaxing and unforgettable holiday
Three wonderful trullo houses in the Valle d'Itria. Three traditional trulli to choose from for your perfect Puglian holiday.
Trullilovely offers you an authentic country holiday in one of their three trullo houses in the heart of Puglia: spend your summer in a typical Puglian trullo.
For the most relaxing holiday in a trullo Trullilovely can show you three self catering houses in Puglia, all situated in the Valle d'Itria.

Traditional trulli houses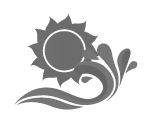 Surrounded by countryside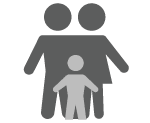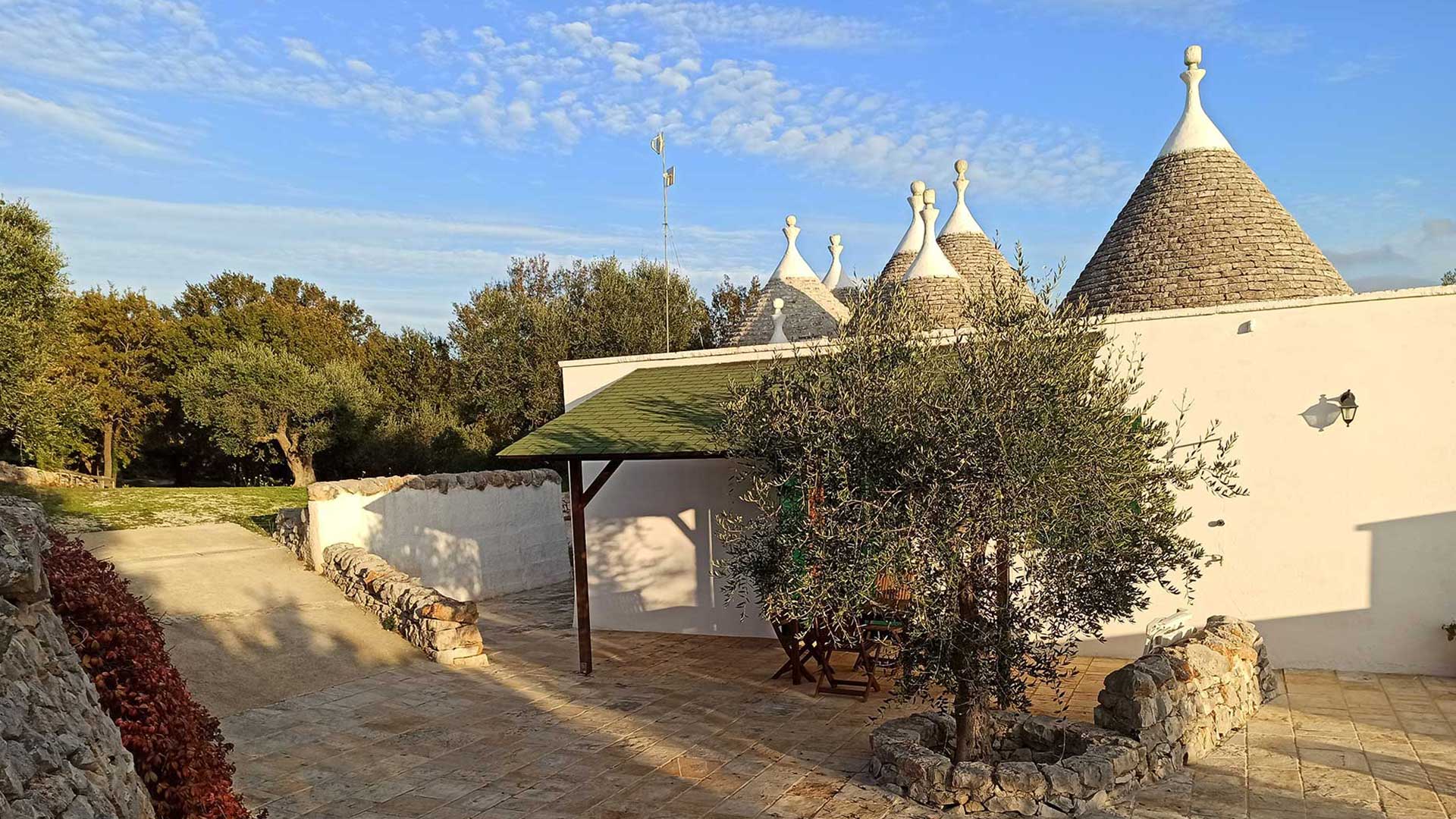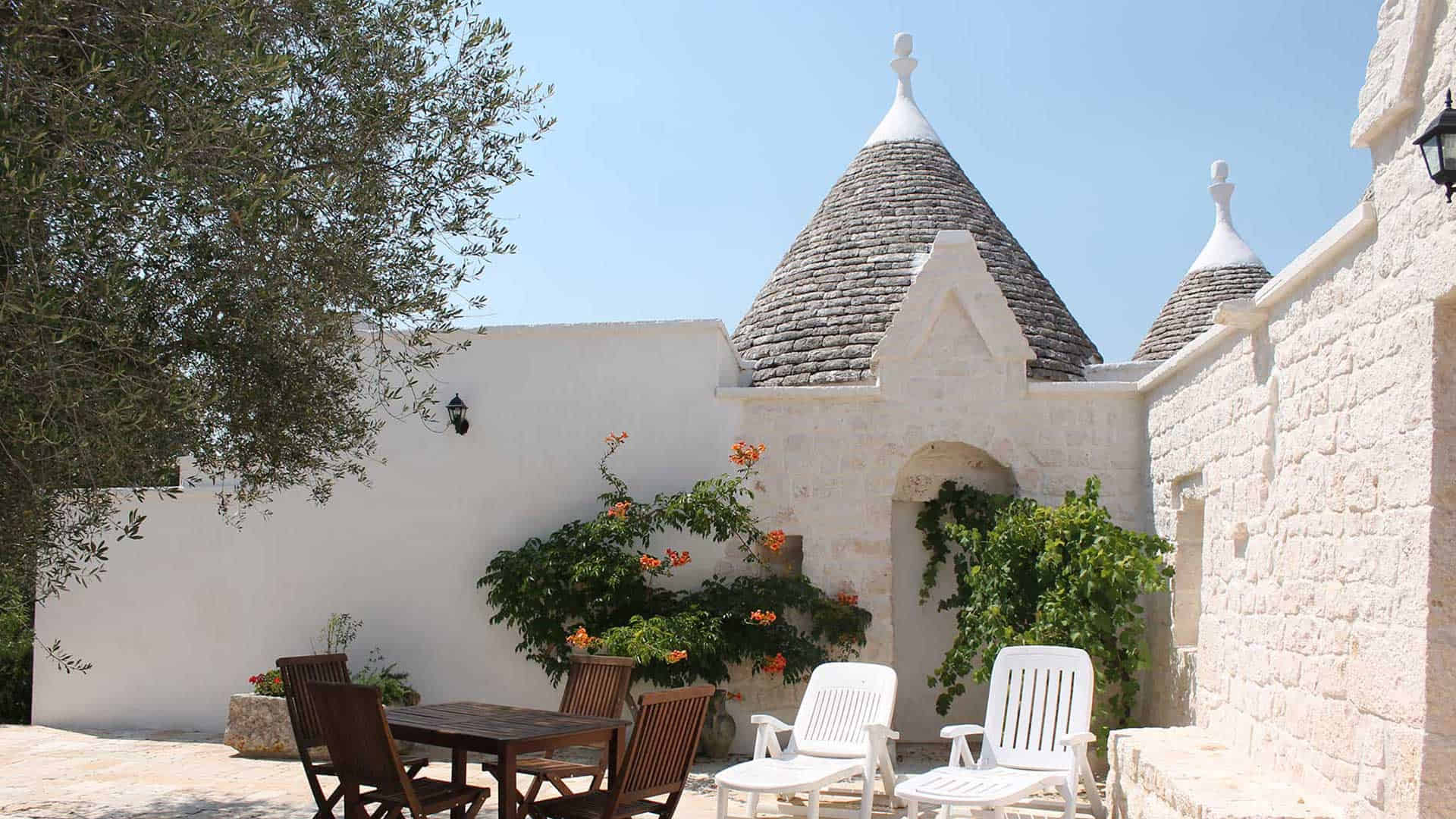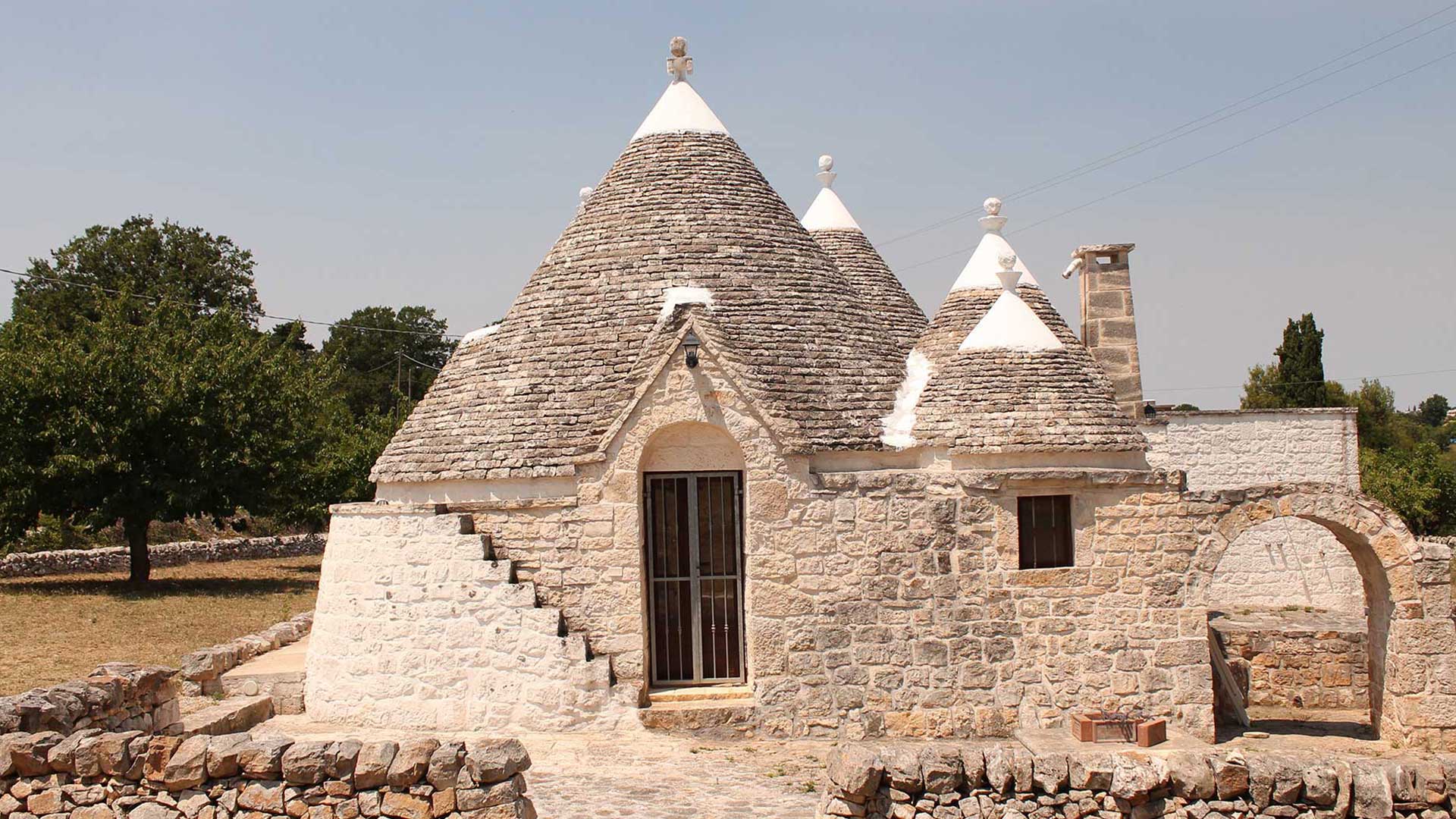 Trullo La Difesa
Trullo La Difesa for up to 6 people.
Trullo La Difesa was originally the stables part of this trullo complex and now renovation has transformed it into a sizeable and spacious house. It has many special features and is completely private. Trullo La Difesa has three bedrooms, one with a king size bed, one double and one twin bedded room. The living room and kitchen are open plan and there is a bathroom with shower. Outside there is a veranda with garden furniture on a stone paved courtyard. Around the trullo, which is on its own land, there are almond and olive trees. There is also a small pine wood just below the house where you will find a shady and secret picnicking area
Trullo La Difesa offers a refreshing outside shower and its very own private swimming pool – that is overground 5 meters in diameter and 1.20 meters deep. It is ideal for families with children being equipped with removable steps. This pool allows you to really relax amongst beautiful olive trees just a few steps from your front door .You can enjoy a splendid uninterrupted view across the valley. This trullo has also its own free WI-FI internet connection and barbeque.
Trullo San Rocco
Trullo San Rocco for up to 4 people.
Trullo San Rocco has two bedrooms. One with a king size bed and one with twin beds, a spacious shower room, living room and fitted kitchen. Trullo San Rocco is at the end of a lane and on its own land thus affording privacy and peace as well as being in a beautiful setting amongst cherry, olive and fig trees. Trullo San Rocco has its own private swimming pool just like our other trullo houses. This trullo house has been renovated from top to bottom without altering its original identity, from its old oak beams to its stone floors. Outside you can sunbathe and eat on the patio. There is a barbeque on the patio too and a large and separate shady area under the huge oak tree outside. The attached olive grove gives you extra space to relish the Puglian rural experience.
As well as being a fantastic, hidden place to relax in this trullo is well placed for sightseeing trips to the rest of Puglia. It is situated in the centre of the Valle D'Itria triangle with easy access to the towns of Cisternino, Martina Franca and Locorotondo.
Trullo San Salvatore
Trullo San Salvatore for up to 5 people.
Trullo San Salvatore has three bedrooms, two with king size beds (one can be adapted to two singles) and one single, one shower room and there is also a spacious kitchen and dining room which has a view over its own valley of olive, almond and pine trees. Outside the patio area has a large central olive tree that provides ample shade and a BBQ area as well as a useful outside shower. The trullino building that borders your outside area is purely decorative so that your privacy is assured. Next to the house there is your own private parking area. Below the trullo you will find shade-filled pine and olive tree terraces.
Trullo San Salvatore also offers its very own private swimming pool – 5 metres in diameter, 1.20 meters deep and overground. It allows you to really relax amongst beautiful olive trees just a few paces from your front door. It is ideal for families with children being equipped with removable steps.
This trullo complex is a firm favourite with our regular visitors. There is a free WI-FI connection at this property.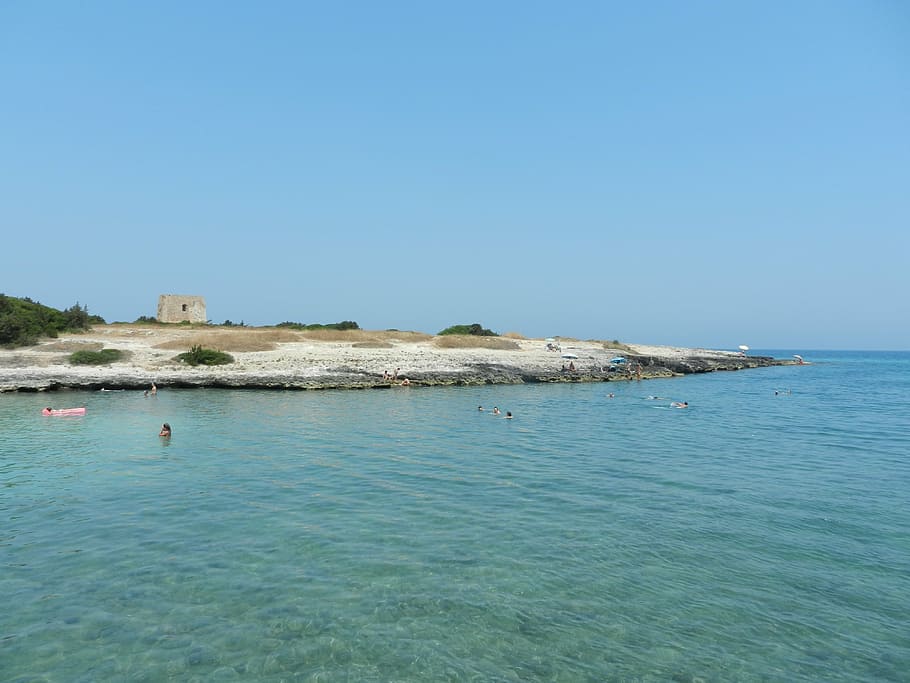 The two seas, Adriatic and Ionian
Puglia has both a sandy and rocky coastline, lidos and free beaches so you are spoilt for choice. The sea surrounding Puglia has received many blue flags over the years that attest to its attractiveness.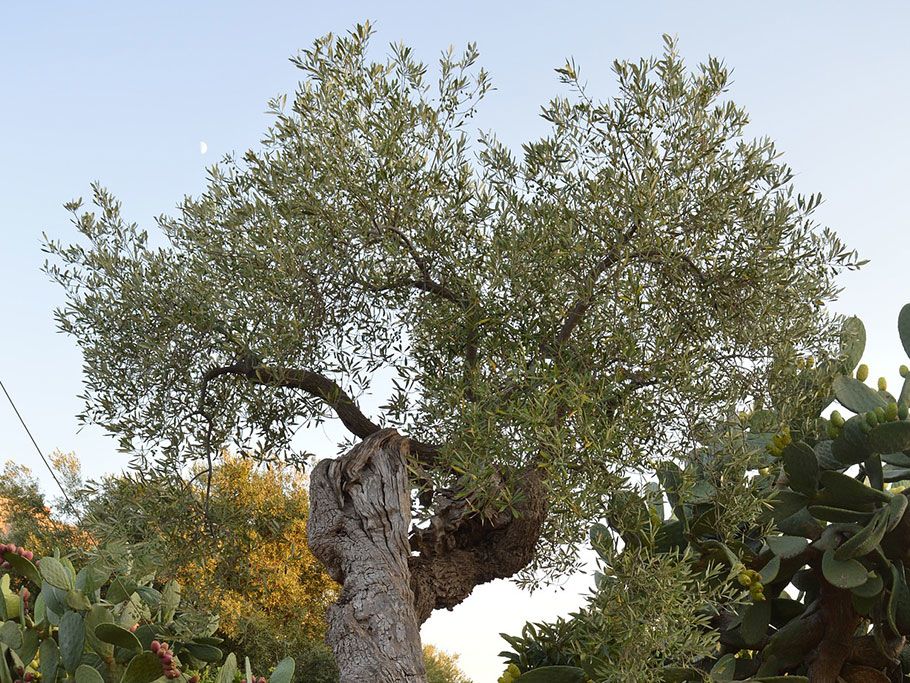 The Countryside
Parks galore! Parco Naturale Terra delle Gravine, the underground limestone caves Grotte di Castellana, Parco Nazionale del Gargano, Murgia dei Trulli with its many stone buildings linked by a maze of tracks and country roads: lots of opportunities for an outdoor holiday.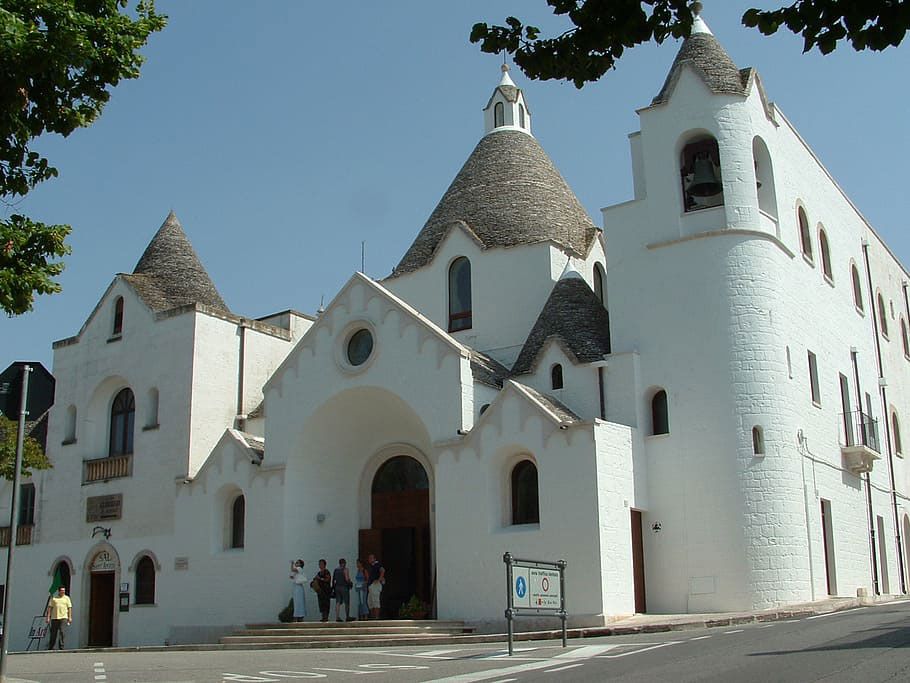 The Valle d'Itria
The towns of Martina Franca, Cisternino, Locorotondo, Alberobello, Ostuni, Ceglie Messapica. An area of olive groves, vineyards, orchards and oak woods dotted with trulli and masserie farms.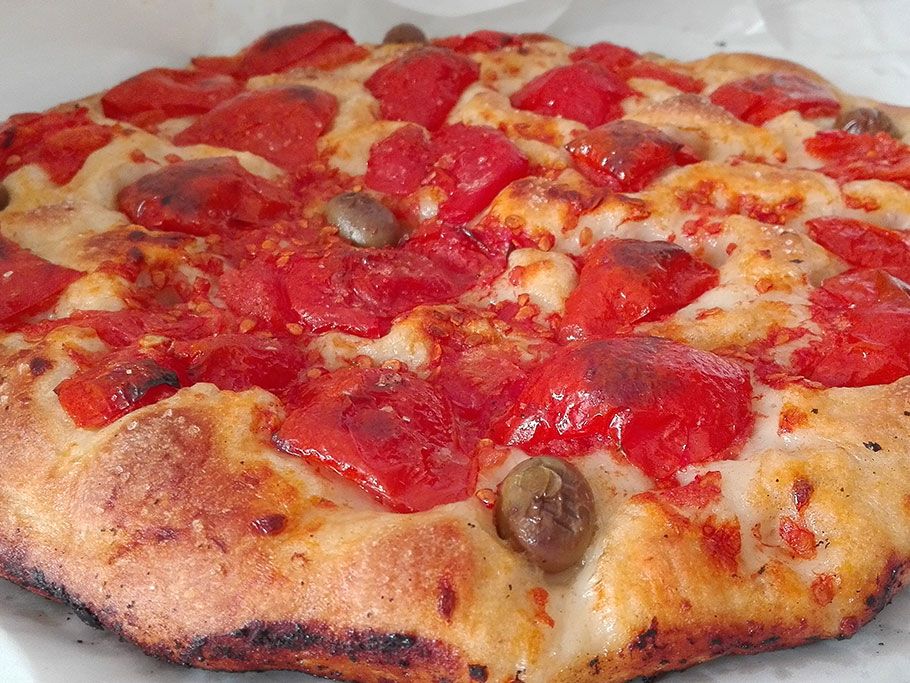 The Food
Now becoming world famous; the recipes of Puglia using local ingredients that include all you could desire from vegetables and fruit to cheeses and meat and fish, not to mention the olive oil and wines.

[dipl_testimonial_slider testimonial_number="100″ include_categories="10,9,14″ show_author_image="off" equalize_testimonials_height="on" slider_loop="on" autoplay_speed="2000″ testimonial_card_bg_color="#FFFFFF" star_font_size="18px" filled_star_color="#708939″ empty_star_color="#708939″ _builder_version="4.9.0″ _module_preset="default" body_font="|300|on||||||" author_font="|600|||||||" author_text_color="#000000″][/dipl_testimonial_slider]
Contact us for further information